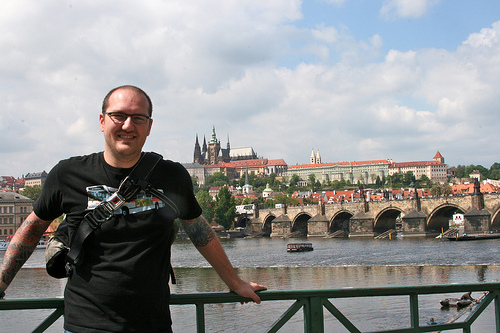 Why anyone would be interested in a short bio describing my rather dull life is beyond me, but it seems like you can't have a cool website without one and I want to be cool.
I was born in Adrian, MI to Mike and Sue Stump. Being that my mom's maiden name was Bair, pronounced "Bear", I was screwed in the last name department from the start. Of course I could have had it worse, such as a classmate named "Harry Johnson". At any rate, back to me. I spent most of my childhood in Brooklyn, MI. Many of you NASCAR fans out there may recall this is the home of Michigan International Speedway. This time of my life was spent swimming in the local lakes and running around the back woods of our property.
When I was 16 I realized my parents were never going to purchase a new computer to replace the outdated Tandy 3000 collecting dust in the home office. Feeling that I was missing out I bought one at a local computer shop with my own money. She was a beauty! A Cyrix 133MHz with a whopping 16MB of RAM and a spacious 3.2GB hard drive. This was soon upgraded to a Cyrix 200MHz and 48MB of RAM. Not long after I created a webpage and started learning HTML. Thus began my computer geekdom (I say computer because I was already a typical geek).
After a short stint in Northern Michigan, that I'd rather not talk about, I enrolled at Eastern Michigan University. It was here I joined a fraternity and met Moonkhan. I also started programming PHP here as well.
At the end of my sophomore year I joined the team at Care2.com. I moved to California with literally a duffle bag and a back pack. It was here that I was able to learn a great deal about systems administration as well as programming large websites. Since then I've worked for a few other companies doing consulting and generally being a typical UNIX geek.
After graduating from EMU I headed west to Seattle, WA were I worked as the Director of IT for eNotes.com and lived with my cat, Crash. I spent about three productive years with eNotes before an offer I couldn't resist came along from Digg. I spent 2.5 great years at Digg, two of which I spent as their Lead Architect. While at Digg I spent time promoting open standards, working on scaling the website, breaking many things, and growing the engineering team.
I'm currently co-founder and CTO of SimpleGeo, which I founded with Matt Galligan in Boulder, CO. We provide location services for other developers.